If you are boxed into thinking about installing a VNC client for Mac; then this post if for you. I was exactly under the same impression until Google about it a bit more. Good news is OSX comes with built in application to access remote desktop over VNC. But to access the application you have two choices.
Assuming your VNC server is running on server 192.168.8.15
Using Finder
1. Open finder and go to the menu "Go"
2. Click on the "Connect to Server" under "Go"
3. Fill Server Address filed with "vnc://192.168.8.15" and press connect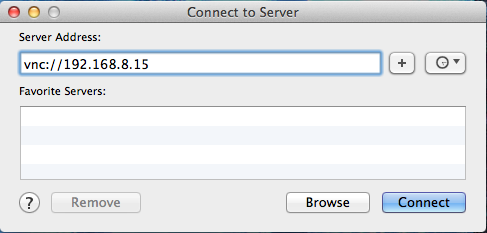 4. You would get another popup to enter your credentials to connect to your VNC server.
Using Safari
1. Open safari
2. Enter the "vnc://192.168.8.15" in address bar and hit enter



3. You would be asked for credentials to connect to VNC Server.